Integrated Websites & CMS
We will tailor a complete web solution to suit your business; Website with CRM & Web Applications.

We provide websites and modular web solutions to suit SME's, Franchises, Associations, Groups, Enterprise & Government entities.
You can utilise stSoftware's CMS & Site Builder to build websites and powerful online applications all in one system. The difference to other systems is you can manage your whole business or groups websites and operations. Our extensive range of business management modules come already integrated.
We provide websites or online stores with CRM, marketing, sales, quote, job, admin, timesheet, order/inventory, invoice or subscription and payment modules. You can share calendars, schedulers, reports, files and documents across teams or your whole organisation. All our solutions can be automated and include workflow and authorisation alerts and reminders.
Our web systems have been providing robust and flexible solutions for businesses and groups since 2000.

Get dedicated Technical Support and your own Account Manager.

stSoftware is an Australian company providing local innovation, support and hosting to help businesses like yours succeed.
Contact stSoftware or call 1300 78 73 78 to speak to our consultants about your requirements.
Features
Content Management System
stSoftware's CMS tracks of every piece of content on your website, much like your local public library keeps track of books and stores them.
Content can be simple text, photos, music, video, documents, or just about anything you can think of. A major advantage of using stSoftware's CMS is that it requires almost no technical skill or knowledge to manage. The CMS manages and organises all your content and saves you time by allowing you to publish your stories, news and knowledge articles in multiple formats across your webpages and via RSS Feeds to social media sites. You can create any sort of Text, Experience (story based) and Knowledge type articles, simply click, then create and publish.
Types of Articles
Website Design Tools
Site Templates, Cloning and Page Design Tools make creating and editing your site design simpler!
We provide a Template-site to get your new site started with menus, headers & footers ready for editing.
If you want a Shopping Cart clone our Template-store, once your design is done enter your products & stock levels.
stSoftware's Page Designer includes handy Page Controls which greatly advance the intuitiveness of page editing.
Page Controls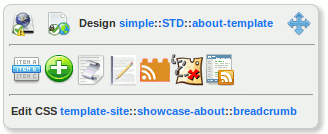 The Page Controls offer a simple to understand icon link straight to the exact section of the site builder to edit the site, page, template or style sheet of the page you are viewing.
Edit the Current Site: takes you to the edit screen for the site

the icon also conveniently shows you the publishing status of the site
Edit the Current Page: takes you to the edit screen for that web-page

the icon also conveniently shows you the publishing status of the web-page
Design Parent Template: this switches you to the edit screen for the template of the page you are viewing
Move the Controller: click and drag the Controller to another area of the web-page you are viewing
Edit Cascading Style Sheet: go straight to the CSS for that section of the web-page to edit the CSS
We've also upgraded the Design view of web-pages so it recognises which components are from the page design and which are from the page template. This means page editors can be sure they are editing a page component not a page template component.
The Design Parent Template link on the Controller makes it easier than ever to switch to the underlying page template for editing.