Introduction
Our Continuous Improvement Programs (CIPs) give organisations the ability to continuously innovate with a targeted monthly program of customisation services with discounts from 40% to 55%.
stSoftware's CIPs provides iterative customisations at a reduced cost, on a planned monthly budget. In this way a CIP removes the financial and management barriers to move from an out-of-the-box system to a custom application which is continuously improving, achieve strategic business outcomes and giving the highest ROI.
stSoftware has an established upgrade release program with system updates being released at the end of every Application Development Lifecycle, see diagram below. As a cloud hosted system these upgrades seamlessly flow through to your application. A CIP allows you to add your own custom enhancements in easy monthly iterations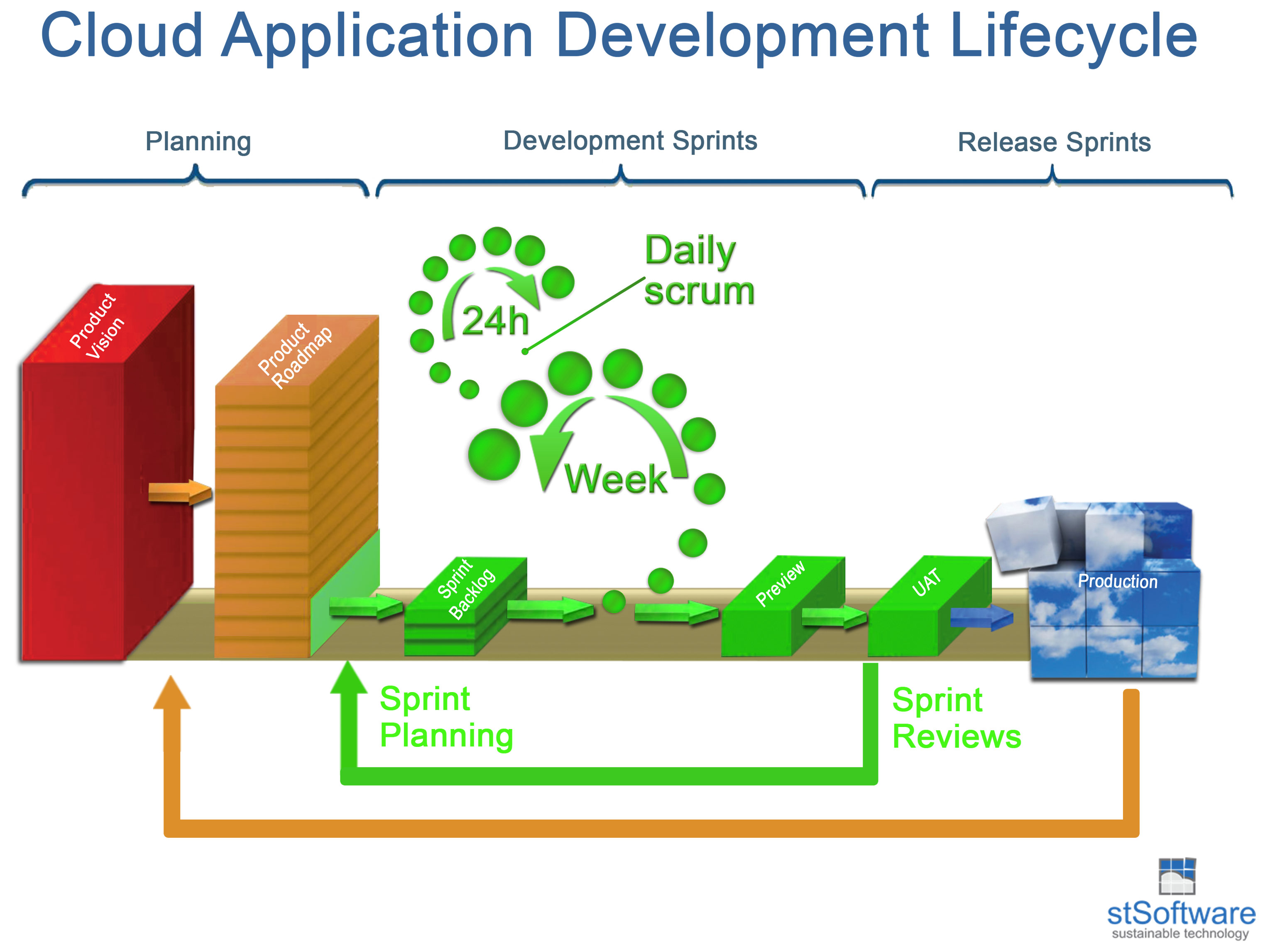 Working Strategically
CIP Reporting
At the commencement of your CIP you will be assisted to develop a Product Vision which can be a broad set of goals or a refined list of improvements for your custom application. Your Product Vision is a strategic technology 'wish list', aligned to your current or future business goals. It is a constantly evolving vision which will be further informed by what is learnt and gained from each iteration of the agile development lifecycle and from the standard system upgrades which flow through from stSoftware's own development lifecycle.
By working closely with the stSoftware Development Team you can be strategic with your priorities to take full advantage of the latest system upgrade enhancements.
Your Product Vision is analysed and defined into specific development tasks which create your Product Roadmap. You will prioritise tasks from your roadmap to be completed in the next development cycle, this is called the Development Sprint. The period of your sprint will depend on the number of Days allocated to your CIP. Regardless of the CIP you choose, the reporting is weekly.
You will receive a weekly CIP Report via email which details activities under 4 main phases:
Completed Activities:all activities completed during the report period;
Sprint Backlog:activities which have been started during the report period;
Product Roadmap:your defined development tasks not in the current Development Sprint;
Product Vision:your list of improvements which are waiting to be defined as specific development tasks.
Note the number of phases you see on your report can change depending on the number of items in each phase at any time.
The reports are automatically generated from stSoftware's Project Management System.
Terms and Conditions:
The Continuous Improvement Programs are pre-paid and give a discount on capped monthly professional services. The payment is monthly so is easier on cash flow and can be budgeted for. The agreed number of days per month will expire at the end of every month. Additional time per month may be requested which is charged at the standard services rates and invoiced weekly. Our range of CIPs and standards rates are published on our Professional Services pricing page.
The CIP can use any of our professional services such as Consulting and IT Strategy, Analysis, Design and Development. All CIPs have a minimum Term of 6 months during which the monthly fee remains the same regardless of published price changes and the number of capped days of services is fixed. You can of course request to upgrade to a higher CIP at any time and a new CIP 6 month term will commence.
Contact stSoftware to get a CIP to match your IT goals with your budget & get better outcomes from your business IT expenditure.