MemberTrack Cloud Platform - Comprehensive modular membership system streamlines your back & front office, website, Web Apps & social media communications.
stSoftware's MemberTrack is a cloud system that makes it faster and simpler to manage all aspects of membership management, communications and social media.
Read More
The MemberTrack system is a key piece of information and communications infrastructure capable of running all day-to-day member operations, processing membership dues and providing secure web access to membership data 24/7 from any device.

Designed in consultation with an Australian education membership organization, the MemberTrack solution incorporates a wide range of data management and communications functionality for membership organizations operating within Australia.

The MemberTrack system provides a low cost fully featured "out-of-the-box" package with standard modules and functionality. The features of MemberTrack are universal and can be tailored to suit the specific needs of small local or large nationalized membership organizations.

It provides flexible real-time membership data management and analysis with access controls for a comprehensive view of all membership data. MemberTrack displays data in a user-friendly, intuitive format that minimizes training requirements and enables fast implementation and uptake. Access can also be restricted for particular users or user groups.

MemberTrack's Site Builder provides mobile responsive website templates which are fully integrated or we can import a new template or any site. Website integration streamlines joining and renewals processing and gives members easy access to information from desktop or mobile devices. Increase member participation in the online union community with a member web App or create an App specific to the tasks of your field staff. The latest in CMS tools means Union staff can manage and update web content efficiently and professionally including automated social media feeds for unified communications.

The universal membership modules together with customisation and implementation services means stSoftware can rapidly implement a custom Membership System to suit the structure, rules and any other unique requirements of your organisation. Implementing an out-of-the-box membership system lowers risk as the software is proven, robust and tailoring universal modules means customisation costs are reduced and returns are maximised.

Read Less

Independent education union stSoftware offers a membership management software solution called MemberTrack. It is built using a wide variety of Lego-like modules that can be integrated to match the specific requirements of particular clients.
Each module has been designed and built by stSoftware to provide a seamless and consistent end-user experience and can be tailored to match you specific organisational requirements. Below is a partial listing of available modules and functionality.
Cross Platform Tools, Integration & Web Services, Mobility Functionaliy: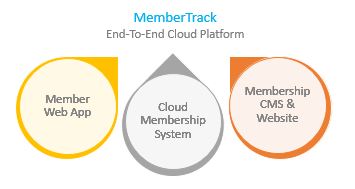 Drag & Drop to & from Cloud Docs
Multiple Export Formats - PDF/CSV/Excel/HTML/Printer/Printer&PDF
iCal Integration
Website Spider
Manual or Automated (single or two-way) Accounting Integration
Manual or Automated Payment Gateway
Automated Email Integration
Social Media Integration - Facebook/LinkedIn/Twitter/Google+/Pinterest/YouTube/Instagram/Github
Web Services API's - integrate with 3rd party software
Native Web App Tools
Mobile Responsive Interface
Web Apps - Generic Layout, Templates & Customise Tools
Admin Functionality, Reporting/Search Tools, Analytics:
Easy Systems Settings - easy management of

System Details
Look & Feel
Database Rules & Settings
Passwords
Modules Configuration
Online Requests
Labels
Reports Templates

Keyword/Simple/Advanced Module Searches:

Select from Multiple Layouts
Multiple Export/Print Formats
Multiple Criteria on all Search Fields in Advanced Searches
Multiple Sort Fields
Store as Named Report in Browse Reports Folders
System Snapshot - Rollback to get a complete view of data at any point in time:

Enables accurate snapshot of membership data for organisations who cary out elections
Constitution requires absolute accuracy of membership analytics

Other Analysis Tools:

Website Analytic Tools
Enquiry Source Analysis